Friday, November 29, 2013, 5:48 PM
Beautiful things, people and livings around me
No need to say much... just view...
3:04 PM
What I wish I am doing now....
This is what I am craving for now.......
10:10 AM
Leg injury has worsen
Confirmed case of Achilles tendinitis - has been referred to hospital for further treatment ..... Sad...
Thursday, November 28, 2013, 12:36 PM
Beautiful things, people and livings around me!
Cute Dave! 超可爱的喋喋!
12:00 PM
Give Thanks....
http://www.youtube.com/watch?v=Bk_7wUR2Wdg

Give thanks with a grateful heart
Give thanks to the Holy One
Give thanks because He's given Jesus Christ, His Son

And now let the weak say, "I am strong"
Let the poor say, "I am rich
Because of what the Lord has done for us"

And now let the weak say, "I am strong"
Let the poor say, "I am rich
Because of what the Lord has done for us"
Give thanks

We give thanks to You oh Lord
We give thanks

11:14 AM
Inspirational Quote
所以我們每天要面對我們的臨場表現 ....
11:03 AM
Thanks Giving Day
Thank you Lord for everything and everyone in my life....
Wednesday, November 27, 2013, 11:00 AM
Staying Healthy
Healthy Breakfast!
Tuesday, November 26, 2013, 8:11 PM
孤單
浪費
最近一直回頭看自己走過的路,發覺浪費了好多在執著和等待裏。到最後,還不是一個人。
每天下班走的那段路,在街燈的陪伴下,更覺孤單。
累的時候真的想有個依靠,但我知道我沒這"福利",都必須靠自己。
我是累了。
3:15 PM
Inspirational Quote
A long lasting relationship and marriage is.....
One day, when I'm too old that I can't stand and walk on my own....
Would you be there to hold my hands and walk with me till the end?
Will you treasure me as much as I do to you, my dear?
12:39 PM
Princess Bella
Bella is a "hardworking" baby!!!
Look at this! Bella is joining her Mommie at work... so she's going to be a helper!?
No! She's going to be Mommie's Supervisor!!!!
Monday, November 25, 2013, 1:02 PM
Its not about the look....
Idol? Not really... just someone I feel has really worked hard to be where he is now....
Friends were laughing at me saying that I'm over age for this... well.... its really not that...
In fact, when I first saw his pic 1.5 years back... I was not really "attracted".... but it was the voice that attracted me after that... and subsequently when I tracked back his performances as individual and as a group earlier.... the tremendous improvement...
Jia You!
10:13 AM
Inspirational Quote
Emptying your heart ....
Good morning... its time to empty our hearts that's with burdens to welcome a brand new week!
Sunday, November 24, 2013, 1:53 PM
Blogging
Blogging
I started to blog in 2009, after a drastic happening in my life in end 2008 - lost two of my most beloved in a day..
My life shattered and I was lost, in others eyes that meant burdens off my shoulders, but deep down in me, it was like losing a float that I was clinging on to... I've almost fell into depression, coz I could not express my pain, my lost and how much I was grieving... Until I found an avenue to express that, through writing, so I started my very own blog.
It gave me an encounter of things that happened in my life and how I felt/ responded to them, though there's loads of spelling and grammer mistakes, but, it's the real me. Years after when I looked back at these postings - I see them differently.
In here, there's sadness, anger, frustration and happiness .... Well... I guess that's life.
Have stopped blogging in between, but I think, it's time again to pick it up... ☺
Saturday, November 23, 2013, 12:33 PM
Hiding mode
Lately, I've been in a hiding mode coz have been hurt by gossips around me. Cannot understand why are there so many busybodies out there, not knowing details but start spreading rumors.
Whatever it is, those have nothing to do with them and as an adult. We should know not all things you hear can start spreading. These are people that I don't even wanna be associate with. Since I can't stop your mouth, then I drift away, out of sight, out of mind, nothing to gossip about.
I also hope my friends, pls do not tell these people anything about me, I am just nobody, dun wish to be in the limelight of topics.
Friday, November 22, 2013, 6:23 PM
Busy day.... but TGIF
Phew... I am glad the day is over.... its been a mad day today.
Trying to rush through urgent job and a presentation when I was only told at the last minute that I'd need to present the Digital Media portion.... Glad I did not mess that up....
What a day..... mentally tired...
TGIF!
Thursday, November 21, 2013, 1:55 PM
Flowers ....
10:21 AM
Inspirational Quote
The reason why people give up so quickly is because they look at how far they still have to go, instead of how far they have come. ~~~
人们为什么轻言放弃?因为他们只是看到前方路途遥远,而忘记了身后的一路坚持。
Wednesday, November 20, 2013, 4:51 PM
Missing my Dad....
從有記憶開始,我記得我一直是爸爸的小公主,永遠的baby。
雖然不是含著金鎖匙出世,但決對是在玫瑰花床成長,
愁是什麼?
煩是什麼?
痛是什麼?
悲又是什麼?
在十五歲前,我從不知道。
雖然從小只有爸爸愛我,媽媽和外婆都只疼愛哥哥, 所以我常哭,因為我渴望得到她們的愛。
現在,那個愛我的的爸爸,已在天堂了,我的心好痛。
10:54 AM
Inspirational Quotes
10:51 AM
Inspirational Quotes
10:17 AM
A silent birthday greeting
祝一个我认识, 但他不认识我的人:
生日快乐咯!
Tuesday, November 19, 2013, 1:44 PM
Princess Bella
1:31 PM
Inspirational Quotes
All things happen for a reason and has a season.....
Accept and Receive it with an opened heart....
Monday, November 18, 2013, 12:54 PM
Small little daily quotes...
We may be just a little yellow flower, that may not be noticeable... but what's important was, we've tried our best to show the best of us at that point of time.
12:42 PM
My Little Princess turns 5!
Time flies, my little princess Bella has just turned 5 on 30th October 2013! She my guiding angel...

12:16 PM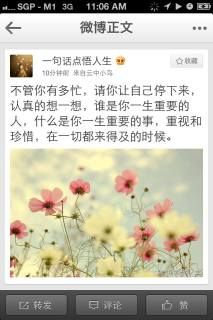 The translated meaning to this quote is to treasure the time with your loved ones, never think there's always another chance as some things/ time, once passed, will never come back again. The golden word - TREASURE .....